Description
No Artificial Terpenes  Our CBD Moon rocks are easily one of the most powerful Hemp products on the Galaxy. We have taken Hemp  bud that is kicked it into high gear by mixing it with the hash oil and kief. In small doses, this is effective in pain reduction, stimulating appetite and nausea reduction.
Our Moon Rocks  Come in 1, 3.5 and 7 Gram Containers
Full Spectrum Of Cannabinoids
Made with Alien Skunk Buds
20:1 CBD strain
Painted with generous quantity of our special sauce. (winterized absolute shatter blend)
Very Potent Medicine!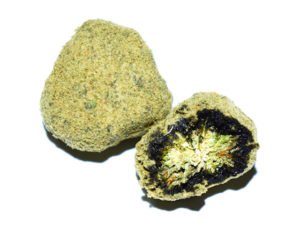 What Are CBD Moon Rocks?
The first marijuana moon rocks were originally created with the Girl Scout Cookies strain, but nowadays, moon rocks have been known to be made with any strain.
Moon Rocks are dank primo buds, around a nickel to quarter in width, that get sprayed or dipped in hash oil, live resin or rosin. They are finished off by rolling the hash caked bud in bright green or golden kief. So basically, Moon Rocks are a big nug cover in concentrate super loaded with THC kief.
If you're a marijuana enthusiast and you're breaking apart a Moon Rock for the first time, I like to compare it to a little kid opening their first present on Christmas morning. As you break apart the rock and feel the kief stick to your fingertips, you'll see the layers of cannabis concentrates which you are about to smoke.
While each Moon Rock marijuana will be a little bit different based on the strain you use, here is one thing you can count on. Because it's superload with three types of cannabis, your average moon rock nug will contain around 50%-52% THC—a staggering level that should leave even the most experienced smokers very pleased. However, Dr. Zodiak's Moonrocks range even higher, from 60% to 99% Delta 8 THC. 
So from now on, when you hear the term Moon Rocks, you can be sure that it is some type of cannabis concoction with hash oil, THC concentrate and kief. When you try marijuana moon rocks for the first time, you'll want to check these best things to do when you're high.
How was the name created?
The first use of cannabis was recorded somewhere between 2000 BC – 500 BC. For centuries, people have smoked it, burned it, vaped it, ate it, turned it into a concentrate and so on.
The concept of Delta 8 Moon Rocks weed really takes cannabis to a new different level. So how did this wonderful idea come to life? Watch this video below from the O.G. Founders of Moon Rocks-Kurupt & Dr. Zodiak.
Marijuana and hip-hop has always been closely related and has a major influence on culture. So it's no surprise that Moon Rocks were originally founded by Kurupt, the former Executive VP for Death Row Records and Tha Dogg Pound alumni, and musician artist Dr. Zodiak.
Kurupt first met Dr. Zodiak at a Cage vs. Cons event held at the Los Angeles Memorial Coliseum in 2013. The relationship started out focusing on a music project and mixtape, but it has now flourished into a full fledged business partnership.
In 2014, Kurupts and Dr. Zodiak's Moon Rocks were launched and along with it, a "Moon Rocks Project" mixtape to help spread their new marijuana innovation. With 23 tracks and major appearances like Kendrick Lamar and Wiz Khalifa, this mixtape helped bring Moon Rocks to the forefront of cannabis culture.